Recommended Add-Ons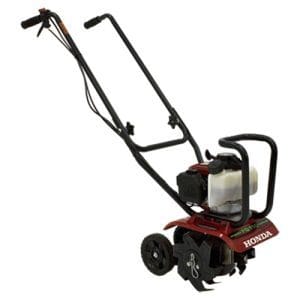 This item:
Honda FG110 Tiller
PLEASE NOTE – Honda Power Equipment are experiencing stock shortages throughout Australia and unprecedented demand. Please call us on (08) 9248 2242 OR email us at [email protected] to confirm stock prior to purchasing if urgent.
We appreciate your understanding.
HONDA FG110 TILLER
Powered by the economical and environmentally friendly mini 4-stroke GX25 engine, the FG110 Mini-Tiller has an adjustable 9″ tilling width – making it ideal for raised beds and narrow rows.
It's a lightweight, easy to use and efficient personal garden cultivator featuring fingertip controls. There's no assembly required for this tiller as the handlebars fold for easy storage and shipping – simply unfold and tighten for use.
That means you can get stuck into your garden from the moment you bring your FG110 home.
All Honda Tiller models are backed by a generous 4-year domestic use & 12-month commercial use warranty for your piece of mind.
Key Features
Engine: GX25
Gears: n/a
Starting: Recoil
Main Clutch: Centrifugal Clutch
Tilling Width: 23mm
Handle Bars: Collapsible
Fuel Type: Unleaded
Drag Bars: Yes
Specifications:
Dimensions: 1038mm x 368mm x 1000mm
Dry Weight: 14.5 KG